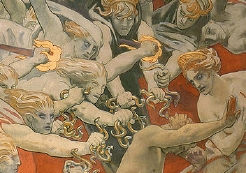 Prendendo nome dal termine utilizzato da Eschilo nelle sue tragedie per indicare il demone vendicatore,
Alastor
, nei cinque minuti di durata complessiva, mantiene caratteri di costante tensione, compressa e latente in figure esili e sfuggenti o esplicitata da gesti estremamente violenti.
Principio unificatore elementare, pur in presenza di numerose digressioni, è quello dei suoni ribattuti, ora concretizzati, come all'inizio ed alla fine del lavoro, in rapide e oscillanti frammentazioni, ora bloccati su affannosi ritorni irregolari di un solo suono nel registro grave.
Alcune brevi parentesi più distese, proiettate a volte in registri acutissimi, non riescono a scalfire il colore instabilmente aggressivo di
Alastor
.
Importante aggiungere infine che il brano è stato scritto su richiesta dalla giovane violinista Francesca Bonaita come pezzo da concorso e da tale spunto di avvio viene determinata la volontà di valorizzare diverse situazioni esecutive nonché la presenza quasi costante di gestualità di pronta evidenza e di ruvida assertività
Throughout its five minutes of duration
Alastor
(the title derives from the term used by Aeschylus in his tragedies to indicate the vindictive demon) maintains a character of constant tension, compressed and latent in light and fleeting figures, or expressed explicitly in extremely violent gestures.
The main unifying element, though presented in numerous different contexts, are the repetitions, at times concretized, as at the start and end of the work, in rapid and oscillating fragmentations, at others blocked on irregular sultry reiterations of a single low note.
Some brief respites, at times at very high registers, are not able to affect the unstably aggressive tone of
Alastor
.
It is important to add that the piece was written at the request of the young violinist Francesca Bonaita as a competition piece and hence the wish to explore different performing situations as well as the almost constant presence of easily perceptible and rudely assertive ideas