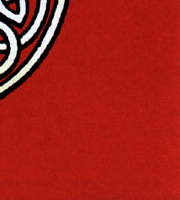 L'interesse per la chitarra - della quale ho sempre subito il fascino nonostante il repertorio spesso troppo circoscritto - mi ha portato ad accettare la proposta di scrivere un nuovo brano che affrontasse lo strumento da un nuovo punto di osservazione, ovvero il suo raddoppio.
Nessun rapporto dialettico o conflittuale viene creato fra le due chitarre; viene invece ricreato una sorta di iperstrumento, in modo da poter ottenere una grande ricchezza armonica e gestuale nell'ambito della quale confluiscono le singole individualità. Un solo metronomo è presente dall'inizio alla fine del pezzo ed impone un andamento costantemente deciso alle figure che si susseguono in una sorta di vortice inarrestabile.
Ampie zone materiche, prive di altezze stabili e riconoscibili, si aprono fra violente successioni accordali o tra fibrillazioni di arpeggi rapidissimi.
L'approdo è alla pagina finale in tapping, dove le percussioni di mano destra e sinistra, entrate improvvisamente in scena, vengono altrettanto improvvisamente interrotte dal silenzio conclusivo.
My interest in the guitar ­ which has always fascinated me despite its often too limited repertory ­ led me to accept a proposal to write a new piece that tackles the instrument from a new point of view, that is its doubling.
No dialectic or conflictual relation is created between the two guitars; instead, a sort of hyper-instrument is created, in order to obtain a great harmonic and gestural richness within which the two single individualities intertwine. A single metronome marking is given from the start to the end of the piece, imposing a constantly rapid tempo for the figures that follow each other in a sort of unstoppable whirlwind.
Broad zones of material, without any stable or recognizable pitches, open up in violent series of chords or fibrillations of very fast arpeggios.
The climax is reached in the final page in tapping, where the percussions of the right and left hands, which suddenly appear, are just as suddenly interrupted by the concluding silence.