L'ENIGMA DELL'ORA
per fisarmonica e elettronica / for accordion and electronics (2006)
dedicato a / dedicated to: Davide Vendramin - Italy
EDIZIONI SUVINI ZERBONI - MILANO


YouTube

pages 1, 2

audio - complete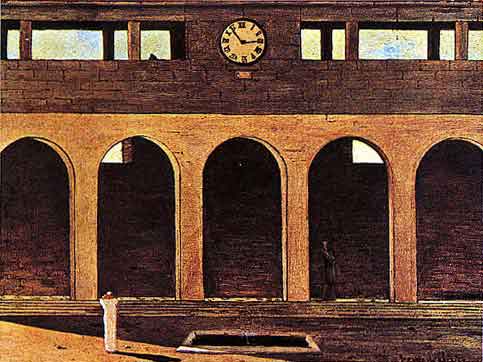 Archi assolati, nel dipinto di De Chirico a cui questo brano si ricollega. Silenzio metafisico.
Ora, un violento gesto del fisarmonicista mette in risonanza lo spazio circostante. Subito immobile, egli contempla silenzioso per lunghi secondi le reazioni e i panorami che si creano per subito scomparire nervosamente.
Inseritosi nuovamente nel percorso da lui avviato, i suoi gesti sono aggressivi, netti; nuovi orizzonti, a moltiplicarne l'irruenza, vengono proposti dalle componenti elettroniche, integralmente basate su suoni di fisarmonica.
Il tempo talvolta perde la sua direzionalità, espandendo il corso portante del lavoro in vaste distese riverberanti, in cui singole componenti vengono immobilizzate e indagate nelle loro caratteristiche timbriche più riposte.
Le prospettive si fanno illusorie e molteplici sono i punti di fuga. Pulsazioni ostili accanto a euforie tonali.
Il ritorno del gesto iniziale, a costringere il solista ad una nuova immobile contemplazione degli eventi, segna il progressivo distendersi dell'arco costruttivo verso registri più gravi e verso tempi sempre più dilatati.
Un lungo pedale, e la voce dello strumento si spegne in un soffio, in una domanda nell'ombra

Sunny arcs, in the painting of De Chirico to which this work refers. Metaphysical silence.
Now, a violent gesture from the accordionist stirs a resonance in the surrounding space. Immediately immovable, he silently contemplates for many seconds the reactions and panoramas that are created, only to disappear immediately, nervously.
Becoming a part again of the run started by him, his gestures are aggressive, clean; new horizons, multiplying the vehemence, are proposed by the electronic components, completely based on accordion sounds.
Time sometimes loses its direction, expanding the course of the piece in vast, reverberating expanses, in which individual components are immobilized and investigated to reveal their more secretive characteristics.
The perspectives become deceptive and the points of escape are manifold. Hostile pulsations fade to tonal euphoria.
The return of the initial gesture, forcing the soloist into a new static contemplation of events, marks the progressive stretch of the constructive arc toward lower registers and increasingly extended note values.
A long pedal point, and the voice of the accordion goes off in a whisper, a question asked of shadows.
home