IL PIANTO DI GIUTURNA
per voce, flauto, clarinetto, percussioni, pianoforte, violino e violoncello su un testo di Vittorio Sermonti / for voice, flute, clarinet, percussion, piano, violin and cello on a text by Vittorio Sermonti (2006)
dedicato a: Ludovica e Vittorio, con riconoscenza
scritto per: Alda Caiello and Algoritmo Ensemble
EDIZIONI SUVINI ZERBONI - MILANO


pages 5 - 8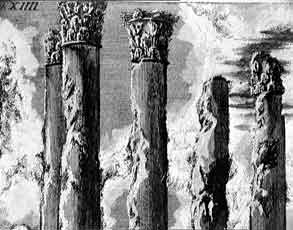 Giuturna, dopo esserne stata uno degli innumerevoli amori, viene resa immortale da Giove.
Un'immortalità maledetta: tutto ciò e tutti coloro che la circondano non vengono resi altrettanto protetti e immuni dal fluire del tempo; tristemente eterna, è costretta dunque a passare la propria esistenza infinita assistendo, altrettanto infinitamente, all'irrevocabile declino e alla scomparsa di ogni persona amata, senza nemmeno la speranza di poterla incontrare nuovamente nel regno delle ombre.
I versi di Vittorio Sermonti, al quale devo grande riconoscenza per aver accettato questa nuova collaborazione, ritraggono Giuturna mentre osserva la sua situazione disperata: un pianto, il suo pianto senza vie di scampo; la morte, forse facile per chi muore ma non per chi resta, per chi è costretto per sempre a restare.
Ne deriva un'ampia pagina configurata come una sorta di scena lirica; la struttura complessiva, sulla scorta di un numero assai ristretto di materiali di base (frammenti di un altro pianto celeberrimo, ovvero quello della Didone di Purcell, il suo "Remember me"...), viene piegata a seguire i molteplici umori del pianto di Giuturna, dal sarcasmo all'invettiva, dalla stanchezza alla rassegnazione.
Le strategie compositive, infine, mirano sempre ad una estrema immediatezza e ad una lineare caratterizzazione emotiva, rischiando scelte consapevolmente dirette, a volte quasi elementari

Giuturna, one of his innumerable loves, has been made immortal by Jupiter.
A wretched immortality it is: all things and all people that surround her have not been protected and made immune from the flow of time, as she has; sadly eternal, she is forced therefore to spend her endless existence watching, likewise infinitely, the irreversible decline and death of each beloved person, without a glimmer of hope to meet them again in the afterlife.
Vittorio Sermonti, to whom I am very grateful for having accepted this new collaboration, withdraws Giuturna from his text as she observes her desperate situation: tears, his weeping without a way out; death, that could be easy for everyone who dies, but not for her, forced forever to stay.
From all of these suggestions I have derived a full score molded in the form of a lyric scene; the general structure, based on a limited number of materials (fragments of another famous lament, that of Purcell's Didone: her "Remember me..."), follows the manifold humors of the weeping of Giuturna, from sarcasm to invective, from fatigue to resignation.
The strategies of composition, finally, always try to find an extreme immediateness and a clear emotional characterization, risking choices which are knowingly direct, at times almost elementary.
home