IER...
una riverberazione selettiva di "Il Poveretto" di G. Verdi / a selective reverberation of G. Verdi's "Il Poveretto"
per voce e ensemble / for voice and ensemble (2012)

dedicato a / dedicated to: Ensemble Nuove Musiche

EDIZIONI SUVINI ZERBONI - MILANO


YouTube

page 1
Come se giungesse da una grande distanza in una notte di vento intermittente, una lirica da camera di Verdi ci lascia percepire chiaramente solo alcune sillabe della linea vocale, pur essendone intuibile l'intero profilo.
Della parte pianistica quasi tutto viene perduto.
Le poche parti arrivate fino a noi restano libere di risuonare e di riverberarsi nell'intero ensemble; nulla, all'infuori di questi prolungamenti e di un numero ristrettissimo di raddoppi di ottava, viene loro aggiunto o elaborato rispetto alla pagina originale.
Con grande sorpresa ne emerge una pagina malinconicamente introversa, la cui intima riservatezza ci si rivela come attraverso la decifrazione di un messaggio in codice.
Una lettera dimenticata da decenni nel cassetto segreto di uno scrittoio.

As if from a great distance, in a night of intermlttent wlnd, a chamber lyric by Verdi arrived, letting us hear clearly just a few syllables of the vocal line, though the whole outline can be vaguely inferred.
The piano part is almost totally lost.
The few parts that have reached us remain free to resound and reverberate throughout the whole ensemble; nothing, other than these prolongations and a very small number of octave doublings, is added or changed compared to the original score.
To our great surprise the syllables that survived recreate a new text: the result is a melancholically introverted plece, whose intimate reserve is revealed Ilke the deciphering of a message in code.
A letter left for decades in a secret drawer of a writing desk.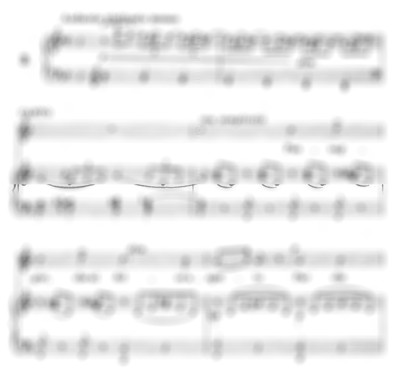 home