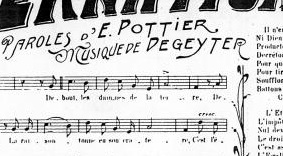 Nel corso degli anni un certo numero di miei lavori hanno avuto in comune gli elementi costruttivi di partenza, fossero essi di mia invenzione o ricavati da pagine a me care e di provenienza disparata.
Ho provato grande interesse a lavorare su questi spunti ricorrenti tentando di agire nell'elaborazione secondo strategie e intenzioni sempre nuove e giungendo a realizzazioni sempre lontanissime fra loro.
Se in questi mesi
Quattro parole
per orchestra ha ripercorso un breve frammento melodico legato addirittura ad un lavoro scritto per la conclusione dei miei studi in Conservatorio e già alla base di altri due lavori precedenti, per
Lectio brevis
, scritto su graditissima richiesta di Eugenio Colombo per il suo saxofono contralto, sono ritornato ancora una volta su un'altra mia idea fissa, ovvero la frase iniziale di un celeberrimo canto politico, il riconoscimento del quale si lascia alla curiosità di chi ascolterà.
In questo caso, nei pochi minuti a disposizione, questo frammento viene conquistato lentamente, nota per nota, in un clima estremamente vario, ricco di digressioni umorali e quasi improvvisative. Il raggiungimento dell'ultimo suono, gridato nel registro più acuto dello strumento, porta ad un rapido e fugace epilogo, in cui il canto utilizzato farebbe una sua comparsa integrale e finalmente compatta, se la sua riconoscibilità non venisse tuttavia resa problematica da continui tremoli ed erosioni timbriche impietose.
Over the years a certain number of my works have shared the same constructive elements, either of my own invention or taken from pieces dear to me and of varying provenance.
I found it very interesting to work with these recurrent starting points, trying to adopt new strategies and aims, and achieving results that were very far from each other. While in these months
Quattro parole
for orchestra has taken up a short melodic fragment from a piece I wrote as far back as the end of my studies at the Conservatory and already used for the basis of other previous works, for
Lectio brevis
, written at the very welcome request of Eugenio Colombo for his alto saxophone, I went back once more to another of my idŽes fixes, that is, the opening phrase of a very famous political song, whose identity I leave to the curiosity of the listener.
In this case, in the few minutes available, this fragment is slowly conquered, note by note, in a climate that is extremely varied, rich in changing moods and almost improvisational. The last note, screamed at the highest register of the instrument, leads to a rapid and fleeting epilogue, in which the song in question would actually make its appearance in full and finally compact, if it were not made difficult to recognize by the continuous tremolos and ruthless erosions of timbre.