LE STRADE DI MELPOMENE
per flauto, clarinetto, percussioni, chitarra, viola e violoncello / for flute, clarinet, percussion, guitar, viola and cello (2003)
dedicato a: "Freon Ensemble" - Italia
nuova versione dedicata a / new version dedicated to: Ensemble Sentieri selvaggi- Italy
Opera commissionata dalla Fondazione Teatro delle Muse di Ancona
EDIZIONI SUVINI ZERBONI - MILANO


pages 10 - 12

audio - complete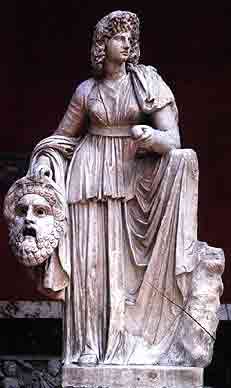 Le strade di Melpomene sembrano facili, senza segreti.
Ci si avvia con spavalderia.
Le immagini strumentali sono nette e affermative, spesso eccessive, incuranti dei segnali insidiosi dei quali, da presto, il cammino viene cosparso: ecco allora gli archi rabbiosi dell'inizio, l'ottavino e il clarinetto arrogantemente euforici, plateali recuperi tonali.
Avviene però che, come ad un trivio tornando da Corinto, la mano inesorabile del destino imponga la sua direzione ai protagonisti; nelle pieghe del racconto il tempo si blocca in sospensioni presaghe; sempre più simili a fantocci svuotati di energia, gli strumenti vedono intorpidirsi sempre più i loro gesti, sentono che la poca energia residua non può far altro che portarli all'epilogo, severo e gelido.
Precipitati nel buio della sorte, svuotati di ogni compiacimento timbrico, immobilizzati su piccoli gesti senza speranza, sentiamo su di noi lo sguardo tagliente di Melpomene, Musa della Tragedia.

The roads of Melpomene seem to be easy, without secrets.
One sets out with boldness.
The instrumental images are clean and affirmative, often excessive, regardless of the insidious signals with which the walk is soon strewn: and so we have the strings full of anger at the beginning, a euphoric piccolo and clarinet full of arrogance, ostentatious tonal recurrences.
Yet, as in a crossroads returning from Corinth, it happens that the inexorable hand of destiny imposes its direction on everyone; in the folds of the tale, time ceases in foreboding suspensions; more and more similar to puppets emptied of energy, the players see their gestures becoming increasingly numb, they feel that the slight residual energy cannot carry them anywhere but to the epilogue, severe and icy.
Thrown headlong into the darkness of fate, emptied of every timbral gratification, immobilized by small gestures without hope, we feel on us the sharp look of Melpomene, Muse of Tragedy.
home