EN SOLEDAD
per clarinetto, saxofono contralto, pianoforte, violino e violoncello / for for clarinet, alto saxophone, piano, violin and cello (2002)
dedicato a: Ensemble Cosmos 21- Spain
EDIZIONI SUVINI ZERBONI - MILANO


YouTube

pages 1 - 3
En soledad vivía,
y en soledad a puesto ya su nido,
y en soledad la guía
a solas su querido,
también en soledad de amor herido.

Ricollegandosi idealmente ad alcuni versi di San Juan de la Cruz, En soledad si apre con un breve inciso, esposto con grande decisione dai cinque strumenti, nel quale viene ritrovata la norma compositiva dell'intero lavoro.
E' quasi un'illuminazione improvvisa, immediatamente perduta da una lunga sezione dove tutto sembra atomizzato, disperso in frammenti lontani.
Traiettoria del pezzo è quindi il ritrovare, seppure in maniera non rettilinea, la pienezza della visione iniziale, traiettoria destinata tuttavia ad approdare, sulla soglia della sua conclusione più coerente, ad un epilogo imprevisto: una brevissima cadenza del pianoforte, a presentare il materiale di base in una sua ultima, pacata apparizione, un piccolo, estremo slancio dell'ensemble e tutto trascolora in un breve eco sabbioso, indistinto e lontano.

Ideally related to some verses of St. Juan de la Cruz, En soledad opens with a short fragment, which is exposed with great decisiveness by the five instruments, and in which the rule of the whole piece is found.
It is like a sudden illumination, immediately lost in a long section where everything seems atomized, lost in distant fragments.
Even if not in a rectilinear way, the piece is in pursuit of the completeness of the initial vision, but, close to its more coherent conclusion, it leads to an unexpected epilogue: a very short piano cadenza, which presents the basic materials in a final, quiet apparition, a little, extreme outburst of the ensemble and everything changes into a short, sandy echo, indistinct and remote.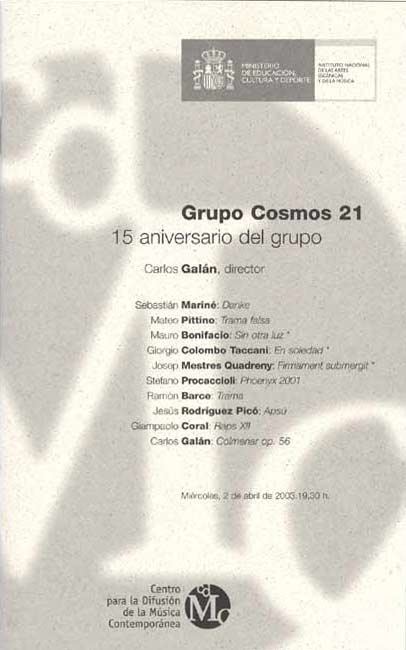 home